Now that we're well into 2023, it's become abundantly clear that the worlds of real estate and social media are currently intertwined more than ever before. This evolution isn't just a mere coincidence, but rather a reflection of how the consumer of today decides to research, connect, and make decisions on properties. Real estate social media marketing is a more vital facet of client acquisition than ever.
Social media platforms may have started as a way to share vacation photos or the latest memes, but in 2023, they're an essential base for businesses to operate from. For real estate professionals, they've become potent spaces to showcase properties, build trust with potential clients, and engage with buyers or renters more profoundly. With around 99% of homebuyers aged between 24 and 57 using the internet during their property search, it's crucial for realtors to establish a robust online presence, and in turn, a strong social media marketing strategy for real estate.
We wrote this guide to unpack the significance of social media marketing for real estate, detailing the strategies that promise maximum engagement and conversions across a variety of platforms.
What is Social Media Marketing?
Social media marketing (SMM) is an umbrella term used to describe the utilization of social media platforms to promote a particular product, service, or brand. This strand of marketing involves creating tailored content for a range of different social media channels to drive user engagement, boost brand awareness, and ultimately lead to conversions. By harnessing the power of SMM, businesses can interact directly with their audience, receive immediate feedback from the people who count, and enhance overall brand loyalty.
Real estate social media marketing transcends beyond the production of simple promotional posts. It can be about anything relating to the industry, such as showcasing specific properties in their finest light, establishing oneself as an authoritative voice in the real estate domain, connecting directly with potential clients, and building lasting, trust-based relationships. Each real estate social media post, be it a guided virtual tour of a newly listed property, testimonial real estate quotes for social media, or revelations about insightful market trends, has the potential to become a bridge connecting realtors with their audience.
A recent study by the National Association of REALTORS (NAR) highlighted that 77% of realtors actively use social media for their business, showcasing just how competitive the space is becoming. The reason for this mass exodus toward the digital realm is simple: it works. The immediate reach, the ability to efficiently segment audiences, and the ease of sharing visually rich, highly-engaging content make real estate social media marketing indispensable for professionals in this day and age.
Why Does Real Estate Need Social Media?
The real estate industry thrives when transactions are based on trust. When working with a client, agents need to understand just how personal every deal is – you're dealing with people's homes, whether they're moving in or moving out. Building strong relationships, and developing a deep understanding of customer preferences is the only way you can truly thrive in this cut-throat industry.
These very attributes are the cornerstones of social media, with connection and interaction being the key selling points of making social media account. In short, social media and real estate result in a match made in marketing heaven, for a number of reasons.
Immediate Exposure to Potential Clients: Social media has literally billions of active users across various platforms, offering marketers an unparalleled way to reach massive numbers of potential clients. Posting a listing on, say, Facebook or Instagram can help to foster instant visibility, reaching leads on the online spaces where they're most active.
Visual Storytelling: Real estate is an inherently visual industry – people need to see what they're investing in. Whether you use platforms to showcase the sunset view from a penthouse or a 360° guided tour of a suburban home, platforms like Instagram and Pinterest are perfect for visual storytelling. By creating visual real estate social media content, you can effectively captivate audiences, allowing them to accurately imagine life within those walls.
Building Trust: Engaging real estate social media posts, from client testimonials to behind-the-scenes glimpses, can foster genuine trust with leads. Potential buyers and sellers feel more confident approaching realtors they "know" through online interactions and content that they've posted.
Cost-Effective Marketing: Traditional advertising methods, such as using mailers, billboards, or buying printed ad space can be costly, with no guarantee of reaching your target audience. On the other hand, many social media platforms offer targeted advertising based on location, interests, and more, helping to ensure a better ROI.
Establishing Authority: Social media is a great space to build an authoritative reputation in the real estate sector. By sharing market insights, the latest real estate trends, or even educational content about homeownership, agents and investors can establish themselves as industry experts. Platforms like LinkedIn are particularly valuable for such endeavors, with a professional, networking focus at the core of their identity.
Engaging with the Community: Real estate is just as much about engaging with communities as it is about selling properties. Participating in local events, supporting the causes of the area, or sharing news on platforms like Twitter and Facebook can help to showcase a realtor's commitment to the community they serve, building further trust with potential clients.
Feedback and Insights: The immediate feedback loop that can be found on social media is an invaluable resource for a realtor. Whether you're flicking through comments, counting likes, or responding to direct messages, realtors can gauge client sentiment, understand preferences, and refine their marketing strategies in real time.
Networking: Beyond interactions with potential clients, social media also offers realtors the opportunity to connect with peers, industry experts, and potential business partners. This is especially true for platforms like LinkedIn, where business-to-business (B2B) engagements flourish.
Considering all the reasons described above, it's glaringly clear that the question isn't whether real estate professionals should use social media, but rather the methods they can use to optimize it for maximum professional impact. The industry's future is becoming more and more intertwined with digital approaches every single day, and social media is going to remain at its forefront.
Social Media Marketing Strategies That Work
The digital era has heralded the presence of a plethora of social media platforms, each of which with its own unique audience and strengths. To effectively harness their power, realtors must carefully tailor their strategies according to the platform. Here's a specialized guide for making use of the six most influential platforms as a realtor in 2023:
Facebook
The Old Guard, Still Going Strong
Facebook Marketplace: While not the most traditional way to do so, realtors can use Facebook's very own marketplace to list properties for sale or rent. Best of all, it's a localized feature where interested buyers in the vicinity can discover listings.
Facebook Live: Host live virtual property tours or Q&A sessions about the housing market.
Groups: Join local community groups or create your own real estate group to share listings, advice, and engage with potential clients.
Ads: Utilize targeted Facebook ads to reach specific demographics or locales.
Content Ideas: Infographics about market trends, success stories, client testimonials.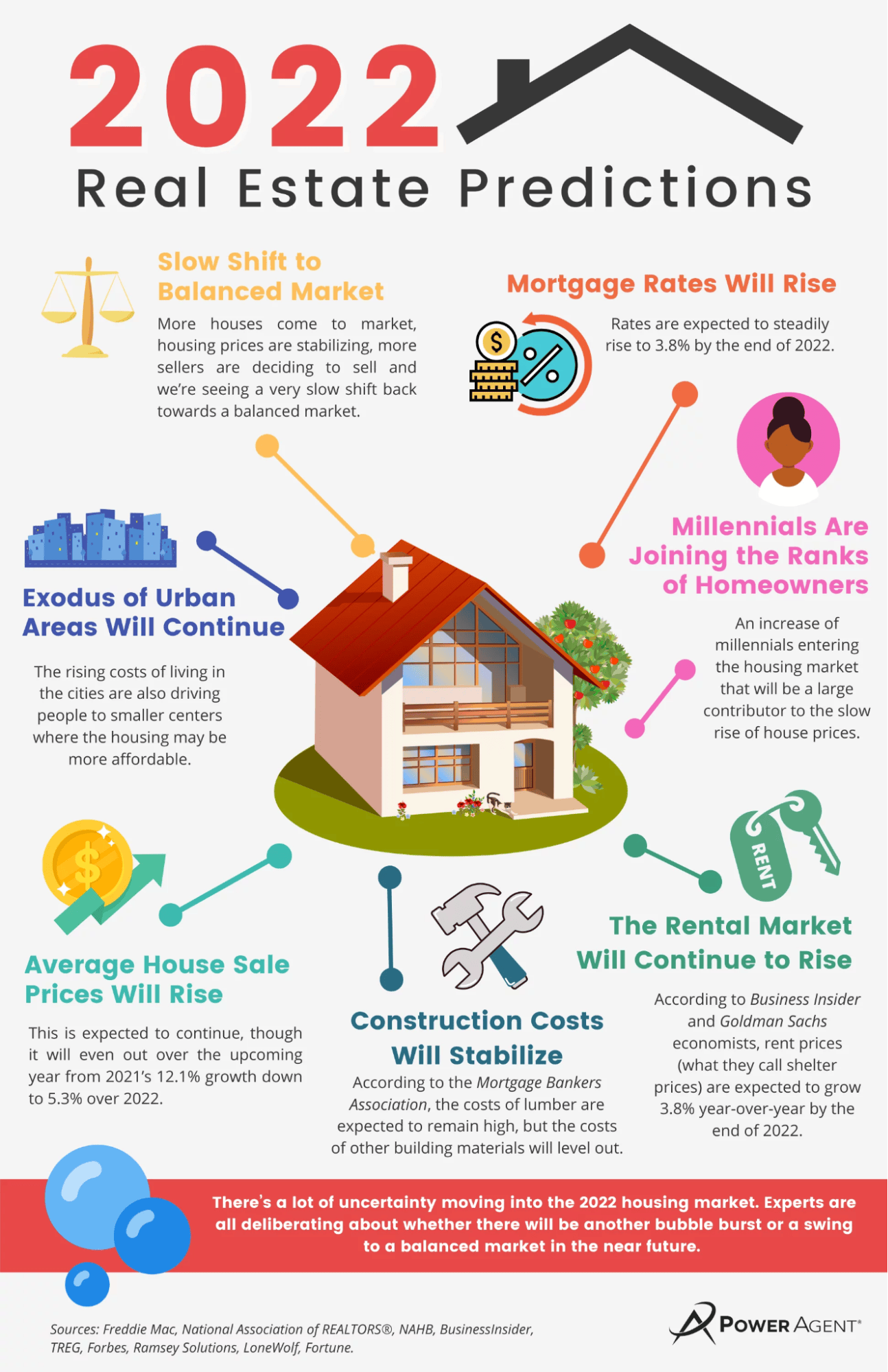 Infographic by Darryl Davis – The kind of thing that could drive a lot of engagement from a Facebook post.
Instagram
Where Visuals Reign Supreme
Instagram Stories & Reels: This short-form video platform is a great place to showcase snippets of new listings or celebrate successful sales. The stories in particular are a great way to use polls and quizzes to engage with your audience and do market research.
IGTV: Longer form virtual property tours, interviews with satisfied clients, or detailed guides about the industry can be featured here.
Hashtags: Using relevant hashtags like #HomeSweetHome, localized tags like #NYCHomes, or general tags like #OpenHouse can increase visibility for people that are casually browsing.
Content Ideas: You can post a lot of related content to boost your stature in the industry. Examples include behind-the-scenes tours at open houses, home décor inspiration posts, and day-in-the-life of realtor videos. Simple posts like "Recently Sold" or new listings are also effective.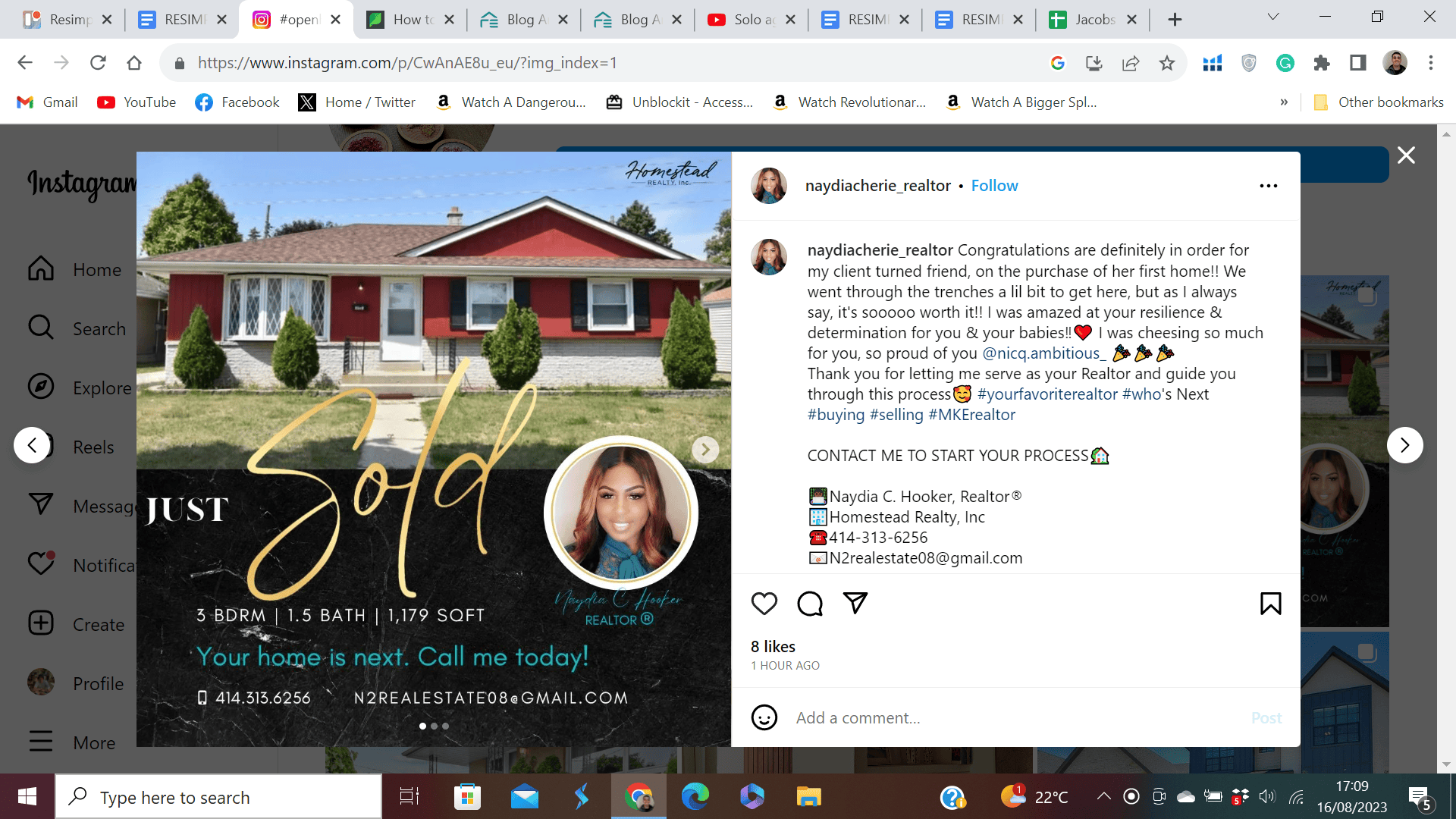 A "Recently Sold" post by Naydia Cherie
LinkedIn
Professional Networking Central
Articles: LinkedIn is all about coming off professional, which is why it's a great place to write and share detailed articles about the real estate market, investment tips, or homeownership benefits.
Engage with B2B Audience: As it offers such a wide network of professionals, LinkedIn is perfect for connecting with property developers, interior designers, and other authorities in the industry.
Recommendations: Word of mouth extends to the online sector, which is why LinkedIn should be used to encourage satisfied clients to leave recommendations on your profile.
Content Ideas: Good content pieces on LinkedIn include pieces of industry news, professional milestones, and team introductions.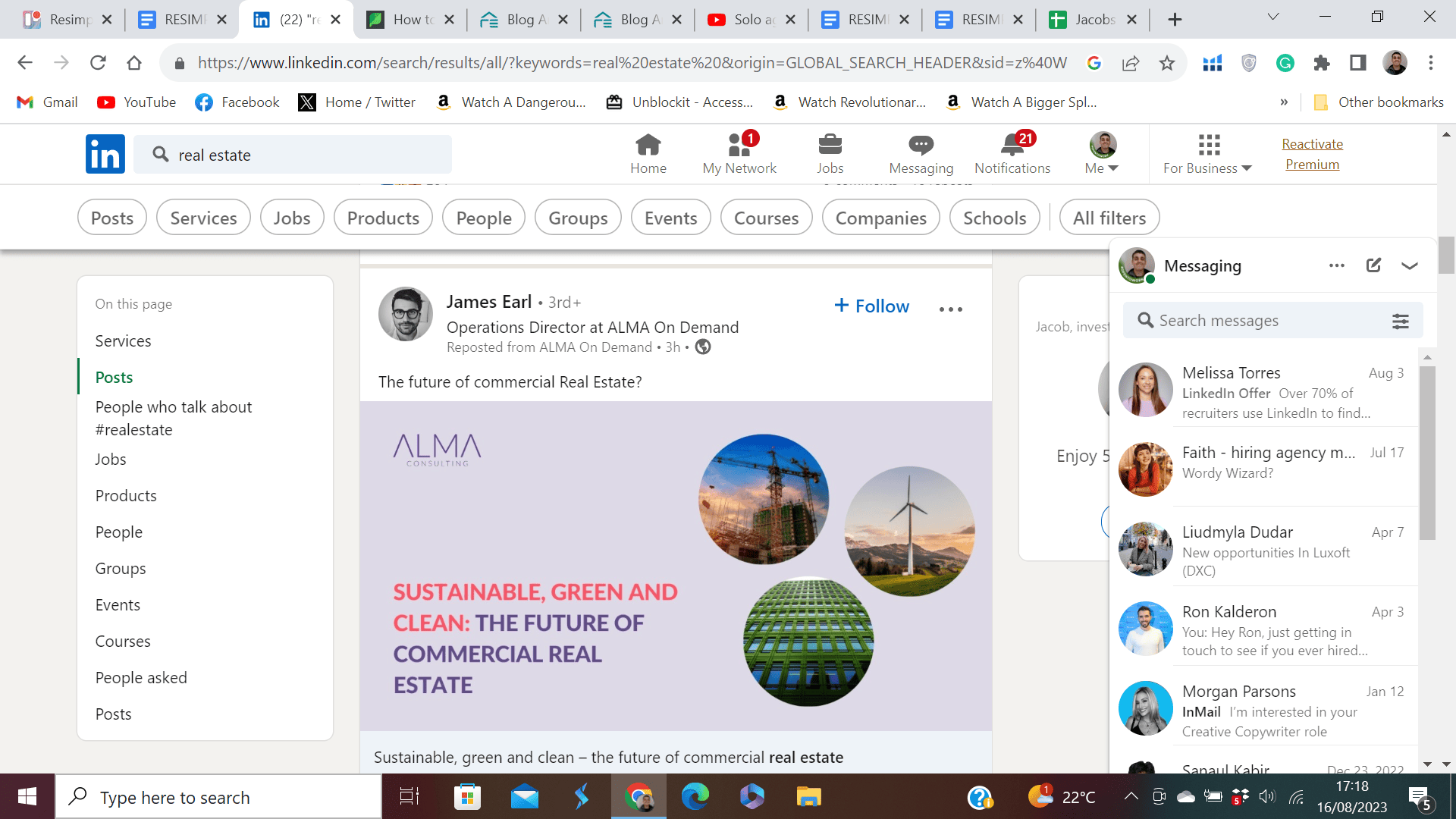 An article posted on LinkedIn by James Earl
Twitter (Now Known as X)
Real-time Engagement and Updates
Live Tweets: With Twitter, you can post active updates from open houses or property auctions in real-time.
Engage with Trends: By following trending conversations, you can share opinions relevant to real estate or locality.
Polls: Twitter polls are a great way to engage your audience by asking for opinions on market trends or property preferences.
Content Ideas: Good content ideas on Twitter include posting real-time market updates, quick property highlights, and sharing real estate news articles.
A podcast clip shared by Manny Khoshbin
YouTube
If a Picture Paints a Thousand Words…
Video Tours: Youtube is the perfect place to post detailed virtual tours of properties with an enticing voiceover detailing all of a home's features.
Interviews: Podcasts and interviews where professionals chat with homeowners or industry experts can gain massive viewerships, perfect for boosting a profile in real estate.
How-to Videos: Youtube can be used to offer value to potential clients with content around home maintenance, décor, or buying/selling tips.
Content Ideas: Good Youtube videos include neighborhood guides, property renovation before-and-after videos, and long-form podcasts.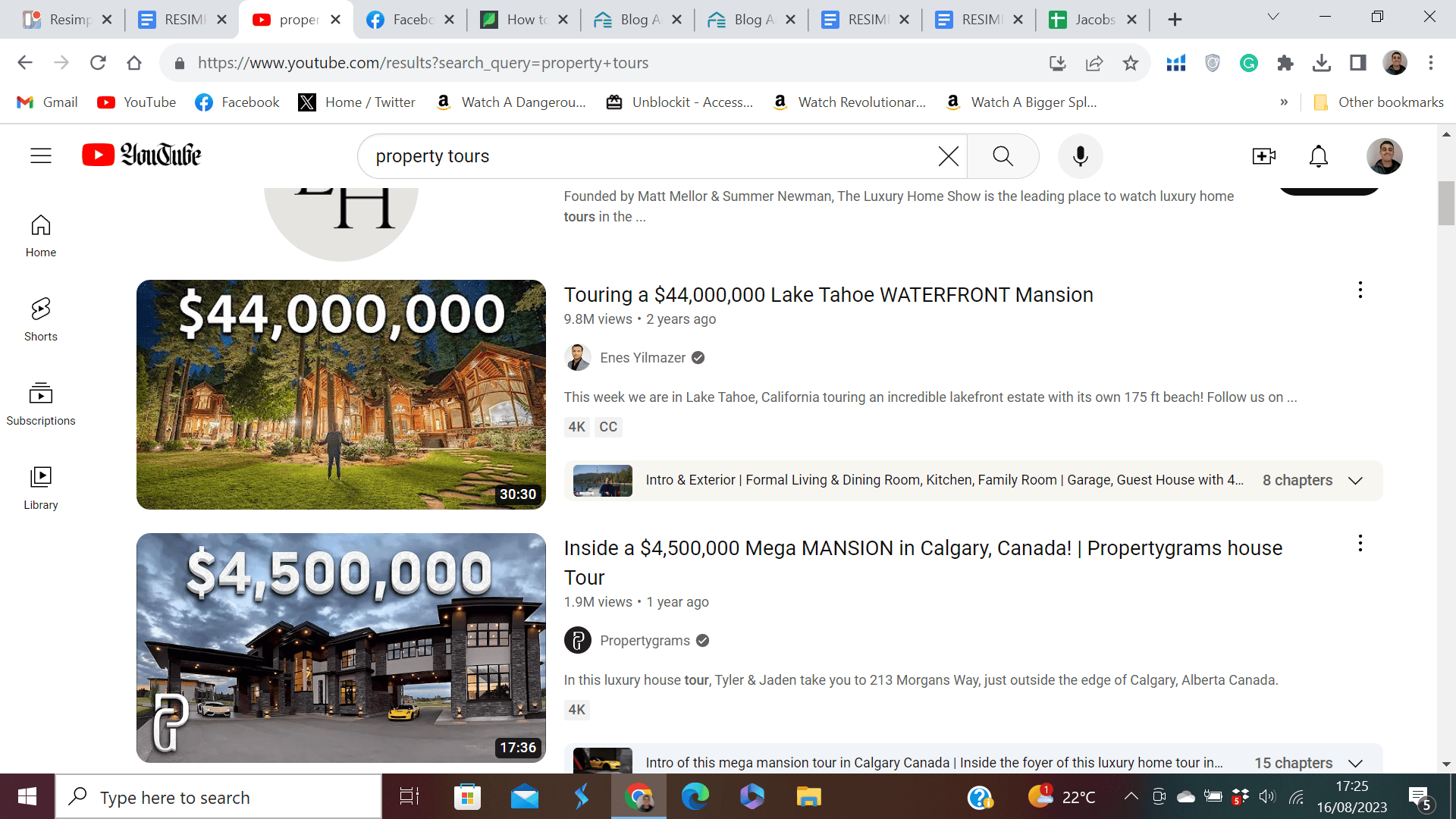 A property tour posted by Enes Yilmazer
Pinterest
Inspiration at its Best
Mood Boards: Pinterest is the spiritual home of the mood board – curated imagery boards that can be focused on home décor, landscaping, or architecture inspiration.
Property Photos: Pinterest, much like Instagram is also a great space for posting high-resolution images of properties, categorized by style or location.
Infographics: You can easily showcase shareable graphics on home maintenance tips or market statistics on Pinterest. 
Content Ideas: Pinterest is a great place to post DIY home projects, seasonal décor inspiration, and dream home visuals.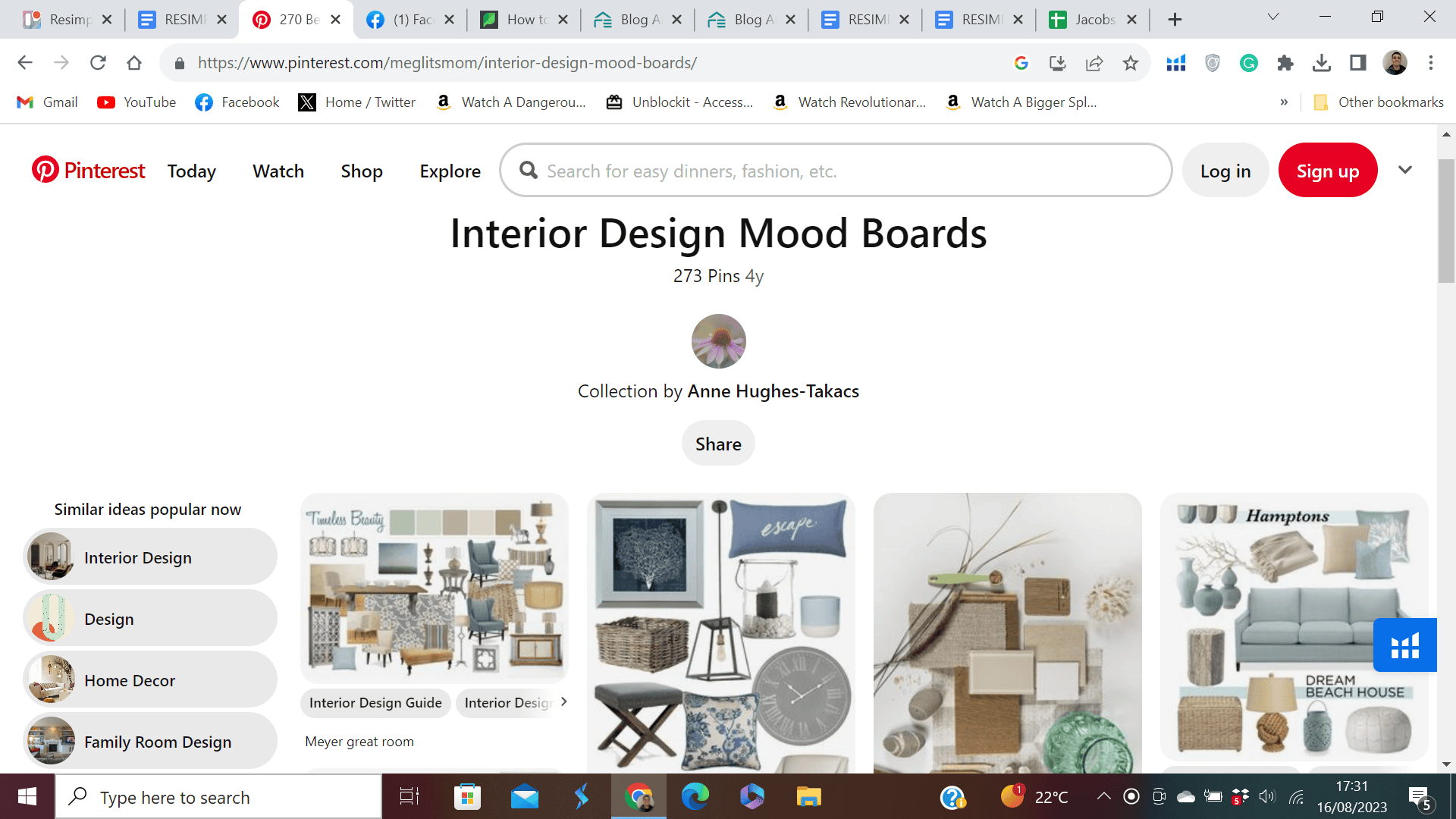 A Collection of Interior Design Mood Boards by Anne Hughes-Takacs
When crafting your real estate social media strategy for each platform, it's vital to remember that consistency, authenticity, and engagement are key. Responding to comments, staying updated with trends, and prioritizing the audience's needs will drive success across all your platforms.
In an increasingly digitized world, the real estate industry's potential hinges not only on brick and mortar but also on clicks and servers. 
The power of real estate social media marketing is undeniable, granting agents and professionals immediate exposure to potential clients, avenues for creative storytelling, building trust with leads, and much more.
Tailoring your strategy per platform is vital, whether leveraging Facebook's wide-reaching Marketplace, utilizing Instagram's visual feeds, sharing insights on LinkedIn, engaging with world events on Twitter, creating compelling videos on YouTube, or inspiring your audience from Pinterest, every platform has unique offerings that can amplify your real estate business.
With all this knowledge, it's now time for you to start using these platforms to your advantage. Write that blog, build that mood board, and shoot that video. It will only drive the engagement your business needs. 
For more insightful blogs on the real estate industry, check out our blog today.