In the era of digital advertising, online listings, and email drip campaigns, one might assume that old-fashioned marketing tools like real estate flyers have become obsolete. However, that's far from the truth. Real estate agent flyers remain an essential component of a professional's marketing arsenal. 
At its core, a real estate flyer is a single-page document designed to provide information about a property, an open house, or an agent's services, among other things. It's a visual and text-based representation designed to capture attention, convey key details, and prompt potential clients to act.
The effectiveness of real estate flyers hinges on their visual profile, written content, and distribution. Creative real estate flyers not only showcase the property in the best light but also set the tone for the kind of service a client can expect from the agent. 
In this blog post, we'll delve into the intricacies of the process, offering insights, tips, and examples of real estate flyers to help you create compelling materials that resonate with your target audience.
Elements of a Real Estate Flyer for Agents
A good real estate flyer is more than just a sheet of paper; it's a curated blend of information, aesthetics, and branding. Understanding the key elements that coalesce to form a compelling flyer ensures you can effectively communicate with potential clients, leaving a lasting impression. Here's a breakdown of the essential components of a real estate flyer:

Headline and Subheading
The headline is the first hook that can draw viewers in, playing a pivotal role in capturing their attention. It should be catchy, clear, and encapsulate the essence of the flyer's content. For instance, "Dream Home Downtown!" could be a potential headline for a luxurious urban property. The subheading, on the other hand, should provide additional context or details, whether about the property or the realtor.
High-Quality Images
A picture is worth a thousand words, especially in a medium as visual as real estate. High-quality images are paramount in showcasing the property's best, most appealing features. Ensure photographs are professionally taken and well-lit and clearly highlight the property's unique selling points. It's also important to ensure any photos of yourself on a flyer are professional, with a strong pose, clean outfit, and good composition—you need to look the part as much as any property!
Property Description
This section delves deeper into the property's details, giving readers a true sense of what they might be getting into. A well-written property description paints a vivid image, allowing potential buyers to really place themselves in the space. It should cover all the bases, including the property's size, architectural style, number of bedrooms and bathrooms, and any unique features. Keep the description concise yet informative—it's a flyer, not an essay. 
Key Features and Amenities
Bullet points or icons can be an efficient way to list a property's key features and amenities, ensuring the selling points are communicated clearly. This could include attractive aspects like hardwood floors, a modern kitchen, a swimming pool, proximity to schools, or a rooftop terrace. Highlighting these features ensures that the most enticing, sellable aspects of the property are immediately noticeable.
Contact Information
Finally, your contact information should be clear and prominent. This includes essential details such as your name, phone number, email address, social media handles, and website. Make it easy for potential clients to reach out with any queries or express interest in the property; without the ease of communication, you'll never even start the process of a deal. 
Incorporating these elements ensures that your real estate flyer is informative and engaging, inspiring viewers to take the next step in their property journey.
Tips for Creating an Effective Real Estate Flyer
Crafting the perfect real estate flyer requires a balance of design, content, and marketing strategy. It's not just about sharing information but also about captivating leads. We've put together some practical tips to enhance the effectiveness of your real estate flyer:
Keep it Simple and Easy to Read
While you might be tempted to overload the flyer with details, accolades, and elaborate graphics, less is often more. Ensure there's enough empty space on the flyer to avoid overwhelming the viewer. Choose fonts that are easy to read and consistent across the flyer, ensuring that font size is hierarchical, with the most crucial information being the most prominent.
Use High-Quality Images
Images are arguably the most critical component of any real estate flyer. Potential clients want a clear picture of what they're investing in, so use professional photos that showcase the property's best features. Ensure they are professionally shot, well-lit, wide-angle shots that give a comprehensive view of the space.
Highlight Key Features and Amenities
Every property has unique features that distinguish it from other homes on the market. It might be a recently renovated kitchen, a cozy fireplace, or a breathtaking view of the nearby landscape. Make sure to effectively prioritize these highlights on your flyer, using icons or bullet points to draw attention to these features, catching the viewer's eye immediately.
Use Persuasive Language
The words you choose are a massive element of your flyer's profile. Instead of simply listing facts, actively use adjectives that effortlessly evoke emotion and allow readers to visualize living in the space. Tap into your poetic, convincing side when describing the property and yourself. 
Include a Call-to-Action (CTA)
Every good real estate flyer prompts the viewer to act. Whether they encourage you to call for a property viewing, visit an open house, or inquire for more details, effective CTAs are essential. Phrases such as "Schedule Your Viewing Today!" or "Don't Miss Out on This Opportunity!" are CTAs that encourage immediate action.
Remember, the goal of a real estate flyer is to capture and retain attention and inspire action. With these tips in mind, you'll be better equipped to create a flyer that resonates with potential clients.
Top 10 Real Estate Flyer Examples
We've scoured the internet, checking out some of the best real estate flyer template examples from a range of graphic design and real estate branding companies. While they don't all serve the same purpose, they all incorporate the best practices described above in their own way.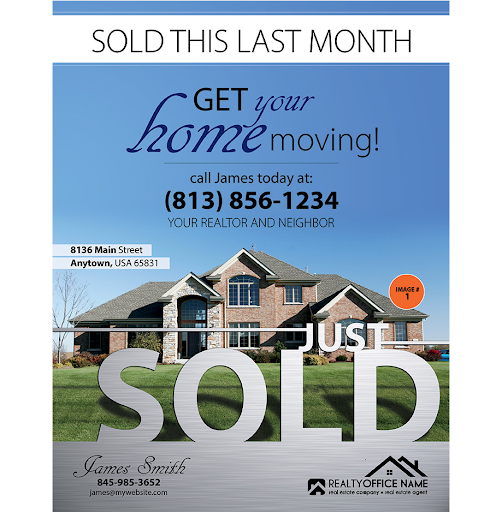 Conclusion
In the bustling industry of real estate, simple effectiveness will set one property apart from another. Focus on the details and magnify them concisely on your real estate flyer. Effective visual design, along with clearly formulated text will allow the flyer to act as a testament to the potential of a property or agency. 
Never underestimate the power of a well-designed real estate marketing flyer. Implement the tips we've collated in this guide, and you'll be on your way to creating not just flyers but powerful tools of persuasion. Elevate your marketing, capture your audience's attention, and turn prospects into proud property owners with your own real estate flyer ideas. 
For more on the life of being a real estate agent, check out our blog today.