In the modern age, a robust online presence isn't just a luxury—it's a necessity. For real estate agents, this is particularly true. A professional website helps real estate professionals capture leads online and effectively grow their real estate business. In this article, we'll discuss the importance of real estate agent websites, why Internet Data Exchange (IDX) real estate features are indispensable, and provide a roundup of some of the best IDX websites for realtors.

Why Real Estate Agent Websites Are Essential
The digital landscape has redefined how businesses operate, and the real estate industry is no exception. Real estate agent websites are not just a modern convenience but an essential tool in today's market. From lead capture to brand building, these platforms offer numerous advantages that can't be overlooked. Furthermore, the best IDX websites for realtors provide a comprehensive range of features designed to streamline the home buying and selling process.

The Advantage of Real Estate Agent Websites
In a world where almost everyone starts their home search online, the importance of real estate agent websites can't be overstated. These websites act as your online storefront, working 24/7 to showcase your listings, capture leads, and build your brand. A robust online presence allows you to reach a wider audience than traditional methods ever could. Moreover, with the aid of IDX real estate features, your website can serve as a one-stop-shop for prospective buyers and sellers, offering them the convenience of viewing multiple listings on a single platform.

Common Features to Look For in an Agent Website
Selecting the right features for your website can significantly impact its effectiveness. Here are some essential components to consider:
Responsive Design: Given the increasing use of mobile devices for web browsing, a responsive design is imperative. It ensures your website adjusts to different screen sizes, offering a seamless experience to all users.
Professional Layout and Design: The visual aspect of your website can greatly influence a visitor's perception of your brand. A clean, professional layout not only looks good but also makes navigation easier, which can reduce bounce rates.
Lead Generation Tools: Features such as contact forms, chatbots, and newsletter sign-ups are essential for capturing visitor information and initiating client engagement.
IDX Real Estate Features: This is where your website transforms into a powerful tool for visitors interested in real estate listings. More on this next.

Real Estate Agent Websites with IDX
IDX is crucial for any serious real estate website. Real estate agents can display listings from a Multiple Listing Service (MLS) directly on their website. This means your site will always have fresh content as new listings become available, thereby encouraging repeat visits.
Including IDX real estate features in your website significantly improves user experience by offering prospective buyers a wealth of information at their fingertips. Features may include advanced search options, filter capabilities, and map-based searches. Essentially, real estate agent websites with IDX become an invaluable resource for anyone in the home buying or selling process, elevating the website's utility and, consequently, its lead-generating potential.

Best Real Estate Agent Websites of 2023
Navigating the plethora of available options to find the best real estate agent website for your needs can be overwhelming. In this section, we'll provide a curated list of top-performing platforms, emphasizing features, pricing, and why these platforms stand out, particularly those with IDX integration.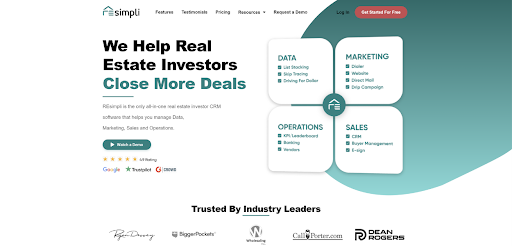 Website: REsimpli
Key Features:
List Stacking

Driving for Dollars (D4$)

Cold Call and Lead Dialers

Free High-Converting Website

Drip Campaign

Speed to Lead

Buyer Management
Pricing:
Basic: $99/month
Pro: $299/month
Enterprise: $749/month
Why It's the Best:
REsimpli is not just another real estate investor CRM; it's an all-in-one solution designed to close more deals. With features ranging from list stacking and direct mail marketing to speed-to-lead and buyer management, REsimpli is robust yet efficient. A 14-day free trial and weekly mastermind calls make it an attractive choice for real estate agents.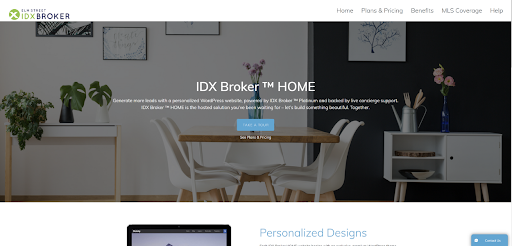 Website: IDX Broker™ HOME
Key Features:
Simple & Effective Search

Fully Customizable

Lead Metrics

SSL Protection

IDX Plugin
Pricing:
Plans start at $50 per month and go up to $150 per month.
Why It's the Best:
IDX Broker™ HOME offers visually stunning designs that are also mobile-responsive. The IDX plugin ensures your website is continually updated with new listings, making it a valuable resource for potential clients.
Real Geeks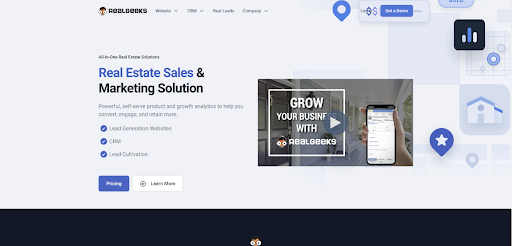 Website: Real Geeks
Key Features:
Lead Manager CRM

Property Valuation Tool

Text Autoresponder

Market Reports

IDX Websites
Pricing:
$299 for solo agents with a monthly fee of $25 per additional agent. Other services range from $50 to $550 per month.
Why It's the Best:
Real Geeks is a comprehensive real estate marketing solution. Its customizable IDX websites, dynamic mapping features, and robust CRM make it a go-to choice for real estate agents.
IDX Central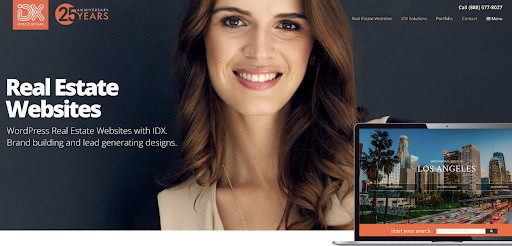 Website: IDX Central
Key Features:
Advanced IDX Property Search

Lead Generation Forms

Automated Market Reports

Real Estate CRM

SEO Friendly
Pricing:
Starts at $44.95 per month.
Why It's the Best:
IDX Central offers code solutions and creative fixes for IDX integration. The platform's robust search features, lead generation forms, and CRM make it a strong contender for anyone in the real estate business.
Placester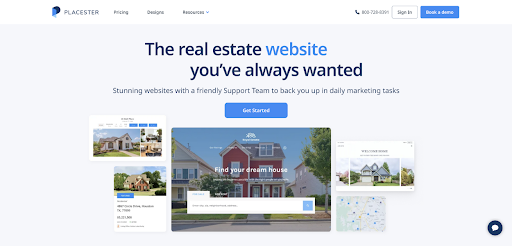 Website: Placester
Key Features:
Site Editor

Listing Search

Website Templates

Services Marketplace
Pricing:
Plans range from $99 to $399 per month, with additional setup fees.
Why It's the Best:
Placester is an all-in-one solution offering code-free site editors and various templates. Its services marketplace also allows agents to supplement their website development with specialized services.
Ballen Real Estate Websites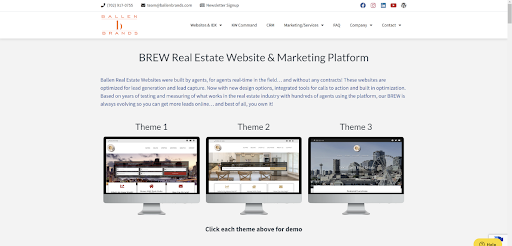 Website: Ballen Real Estate Websites
Key Features:
Complete WordPress Website

IDX Integration

Property Search

Real Estate Lead Capture
Pricing:
One-time payment of $1,495, plus ongoing monthly costs starting at $149.
Why It's the Best:
Developed by agents for agents, Ballen Real Estate Websites focus on lead generation and capture. With its SEO capabilities and community showcase pages, it offers a comprehensive package for real estate professionals.
Carrot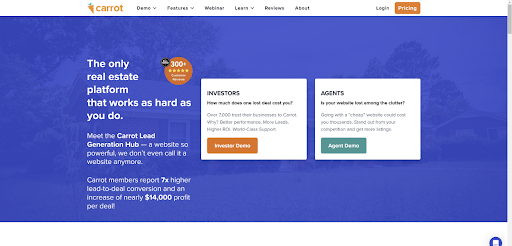 Website: Carrot
Key Features:
Native MLS Search on Your Site

View MLS Properties on Your Domain

Custom IDX Feeds

Blog Content

Industry-Leading Conversion Rates

Customizable Credibility Bar

SEO Features

Carrot's Proprietary Tech Stack

Free Website Hosting
Pricing:
Starting at $99 per month, Carrot packs an array of features to elevate your real estate venture from the ground up.
Why It's the Best:
With a client base of over 7,000 real estate professionals, Carrot is a testament to effectiveness and reliability. Its high-conversion websites, enriched with IDX features, provide a comprehensive toolbox for agents and investors. 
Carrot takes lead attraction and conversion to a new level, thanks to its industry-leading conversion rates and easily customizable credibility bars. Whether you're looking to refine your SEO strategy or integrate native MLS searches, Carrot offers a well-rounded package for success in the modern real estate landscape.
iHomefinder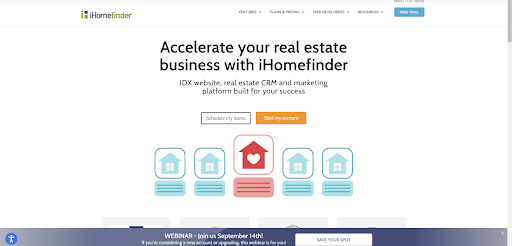 Website: iHomefinder
Key
Features
Optima Leads: A mobile application tailored for agents to manage and nurture leads effortlessly while on the go. It allows agents to view IDX site activities and manage email campaigns from the palm of their hand.
Eureka Search: This indexable search tool is compatible with WordPress, Squarespace, and other platforms. It allows users to conduct property searches and view results on an interactive map, showcasing nearby listings.
MarketBoost: This advanced feature is designed to amplify your marketing strategies by sending out automated market reports and listing alerts for effective lead nurturing.
Plans and Pricing
Standard Plan: For $64.95/month and a $99 setup fee, it offers a WordPress-friendly website builder complete with IDX functionality and a standard search feature.
Premium Plan: Priced at $99.95/month and a one-time setup fee of $299, this plan takes it up a notch with enhanced search capabilities, such as map-based and polygon search, along with customizable search result layouts.
Prime + CRM Plan: At $199.95/month and a $499 setup fee, this package includes all the Premium features along with marketing automation capabilities, such as automated text and email follow-ups, lead aggregation, and a comprehensive performance dashboard.
Why It's the Best
With a legacy spanning two decades, iHomefinder has been a cornerstone for top-tier real estate agents seeking to scale their businesses. Acquired by FRONTSTEPS in 2017, this platform offers a robust range of features backed by a team of experts who manage website and domain setup, hosting, and ongoing maintenance.

The Conclusion
We've come a long way in discussing the ins and outs of real estate websites equipped with IDX features. By now, it should be abundantly clear that having a sophisticated online platform is an essential asset in today's digitally driven real estate market. It's not just about presenting your listings but about offering a centralized, efficient, and valuable resource for your potential clients.
IDX features are more than just bells and whistles; they're fundamental tools that elevate the utility of your site, creating an environment where clients can freely browse, research, and even visualize their future homes on an interactive map. Moreover, we've learned that the IDX-equipped website platforms of today offer much more than just listing displays. With features such as advanced lead generation, marketing automation, and in-depth market analytics, these platforms contribute significantly to converting clicks into contracts.
If you're still operating without a professional website or not using IDX features, you're missing out on a wealth of opportunities to grow your real estate business. The top platforms we've reviewed offer a range of price points and features, allowing you to choose what best suits your needs and budget. In sum, a high-quality, IDX-equipped website isn't just an operational asset; it's a strategic investment into your ongoing and future success in the real estate industry.