In the fast-paced world of real estate, having the right tools can make or break your success. One of the most critical tools in a realtor's arsenal today is a mobile app designed to simplify and streamline tasks. But with an array of options available, how do you decide which is the best app for realtors? That's exactly what we're here to explore. 
In this article, we'll guide you through what to look for in apps for realtors, share our top picks for 2023, and help you make an informed decision that could change how you do business.
Stay tuned as we delve into the best apps for realtors, breaking down their features, benefits, and much more. Whether you're a solo real estate agent or part of a larger team, you'll find something that fits your needs.
What to Look for in the Best Apps for Realtors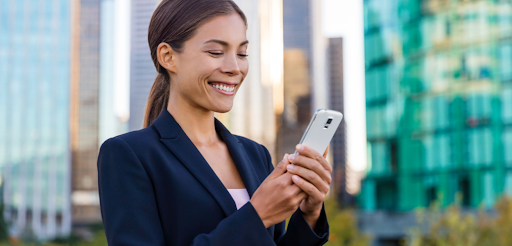 Choosing the right tool in the sea of available real estate apps can be overwhelming. So, what makes an app the best app for realtors? Below are some criteria that can guide you in making the most beneficial choice for your business.


Price vs. Value: Finding the Balance
While pricing should definitely be a consideration, don't make the mistake of immediately going for the cheapest option. The best app for realtors will offer a variety of plans that accommodate different budgets without sacrificing crucial features. 
Remember, investing in a top-tier app could yield high returns by streamlining your business operations.


Robust Time-Saving Features and Unparalleled Ease of Use
Time is of the essence in the real estate business, and the top real estate apps understand this. Look for an app with features specifically designed to save time. For instance, an auto-scheduling feature can be a lifesaver for busy agents, as can an integrated messaging system for quick client communications. 
Moreover, the interface should be user-friendly; if you spend more time figuring out how to use the best app for realtors than actually benefiting from it, then it's not doing its job.


Real User Reviews and Trustworthy Ratings
Before deciding, delve into user reviews and ratings to gain valuable insights. Look for trends in what users praise or criticize; a pattern of similar comments can provide a more reliable picture of what to expect from the top real estate apps. Platforms with consistently high ratings over time are generally more dependable.
Seamless User Onboarding
The initial setup process should be quick and effortless. The best apps for realtors come equipped with easy login authorization and well-designed tutorials. A smooth onboarding experience not only makes life easier for you but also helps your team members adapt to the new tool more quickly.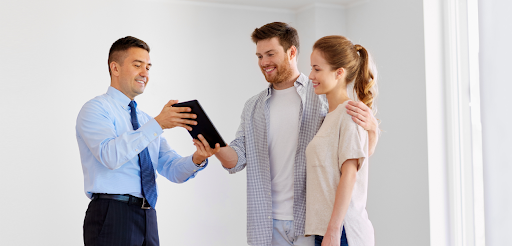 24/7 Customer Support You Can Rely On
Look for platforms that offer around-the-clock customer service, preferably with multiple channels of communication, such as chat, email, and phone. This way, you can quickly resolve any issues that arise, no matter the time of day.


Customizable User Profiles and In-App Communication
The ability to create detailed user profiles can significantly enhance team coordination and client management. Moreover, top real estate apps allow you to message or call colleagues and clients directly within the app, thereby centralizing communications and making it easier to track interactions.


Tailored Push Notifications
Notifications can be a double-edged sword; while they keep you updated, they can become a nuisance if not managed properly. Opt for an app that allows you to customize your notification settings so you only receive those alerts that truly matter to you.


Target User Base: Know Who It's For
Each real estate app often targets a specific audience, whether it's agents, buyers, or both. Select an app that aligns with your particular needs and business model.
By diligently evaluating apps for realtors based on these comprehensive criteria, you'll be more informed and better equipped to choose the best app for realtors that perfectly suits your business needs.


Comprehensive All-in-One Capabilities
Who has time to switch between multiple apps to manage different aspects of work? The best apps for realtors offer all-in-one capabilities, integrating everything from client management and document storage to financial tracking and internal communications. 
Look for an app that is a one-stop shop to streamline your operations and boost your productivity.
Best Apps for Realtors in 2023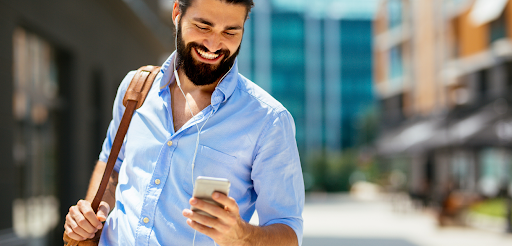 Now that we've walked you through the crucial criteria to consider when selecting the best apps for your real estate business, let's jump into our handpicked list for 2023. These top real estate apps excel in comprehensive all-in-one capabilities, seamless user onboarding, and robust, time-saving features.
Propertybase
Pricing: Custom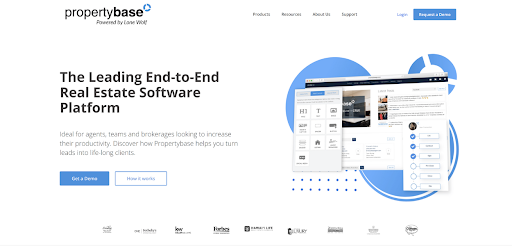 If you're searching for the best app for realtors that serves as a comprehensive toolkit, look no further than Propertybase. This app is a game-changer for real estate professionals, as it effortlessly integrates a robust Salesforce-based CRM with MLS, making it an unparalleled all-in-one platform in the industry. 
Propertybase goes beyond the standard offerings by incorporating advanced features such as drip campaigns, text messaging, call logging, and even a specialized dialer for seamless communications. With this array of capabilities, it clearly stands out among the best apps for realtors in 2023.
Beyond its CRM functionalities, Propertybase impresses with its mobile device optimization and transaction management platform. These features simplify and expedite your day-to-day operations, freeing up valuable time for client interactions and property showings. 
What really caught our eye, though, was the company's IDX lead-generating websites, which have received accolades from RealTrends. This proves that Propertybase is not just one of the top real estate apps but also a powerful ally in lead generation and conversion.
With pipelines that efficiently manage your leads and an available transaction management platform, you may find that Propertybase eliminates the need for additional software purchases. 
So, if you're in the market for apps for realtors that can genuinely elevate your business, Propertybase is a top-tier choice that warrants serious consideration.
Calendly
Pricing: Multiple Options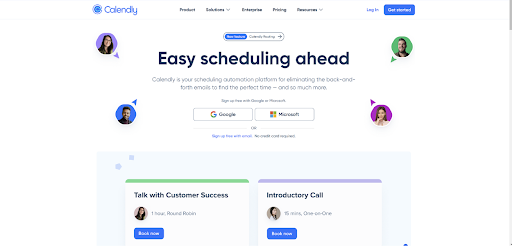 Basic Plan: Always Free.

Perfect for individual agents with basic scheduling needs.

Essentials: $8/seat/mo.

Tailored for more complex scheduling requirements.

Professional: $12/seat/mo.

Ideal for small teams needing extra customization and analytics.

Teams: $16/seat/mo.

Designed for collaborative teams focusing on lead management.

Enterprise: Contact for Pricing.

Suited for large organizations with special admin and security needs.
Calendly stands out as one of the best apps for realtors focused on organization and accessibility. Seamlessly integrate it into your website and specify your available slots. The app automates appointment bookings, eliminating tedious back-and-forths with clients.
The app also offers customizable meeting types, which is a boon in the fast-paced real estate world. Whether it's a phone chat or a virtual meeting, clients can easily select what suits them. This feature makes Calendly a top real estate app, as it allows you to tailor your service to client needs.
Beyond scheduling, Calendly has additional perks like easy rescheduling and sending thank-you notes. It's a versatile tool that caters to the nuanced needs of real estate professionals. If you're sorting through apps for realtors, Calendly deserves your consideration for streamlining operations.
Connecteam
Pricing: Multiple Options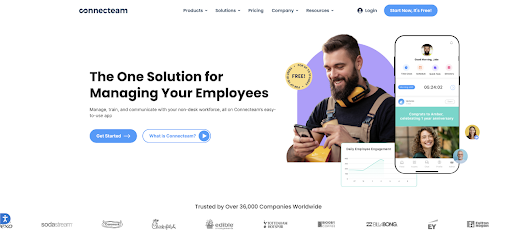 Free-for-Life Plan

Premium: Starts at $29/month for 30 users
Looking for an all-encompassing solution to your real estate business needs? Connecteam stands out as a multi-platform app available on Web, iOS, and Android, making it accessible wherever you are.
Ease your daily grind with Connecteam's multifaceted features. From drag-and-drop scheduling to digital forms and GPS time tracking, this app aims to simplify all aspects of your real estate operations. It even offers seamless payroll integrations with QuickBooks Online and Gusto.
Connecteam doesn't just stop at operational efficiency; it also focuses on team communication. The app includes a built-in chat function, push notifications, and online training resources. With free and premium plans starting at $29/month for 30 users, it's an affordable, value-packed option for real estate professionals.
BombBomb
Pricing: Contact for Details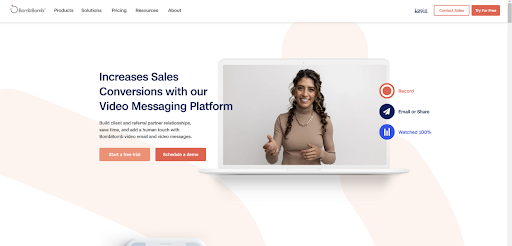 When it comes to customer engagement, BombBomb adds a personal touch that's hard to ignore. While not a real estate-specific app, its features, such as personalized video messaging, make it a contender among the best apps for realtors.
Available on Web, iOS, and Android, BombBomb enables realtors to send unique video emails and texts. The result? More meaningful interactions, which can translate to more opportunities and closed deals. It's especially handy for sprucing up your real estate Facebook ads with a human touch.
BombBomb offers a unique twist to customer engagement through its key features, such as video messaging and scheduling capabilities, allowing realtors to replace traditional text communications with personalized videos. 
Its strong customer service and robust mobile application make it a worthy contender among the best apps for realtors. However, potential downsides include room for improvement in video analytics and a higher price point. 
Overall, BombBomb is an effective tool for realtors aiming to personalize their digital interactions.
Buffer
Pricing: Starts at $5/month/channel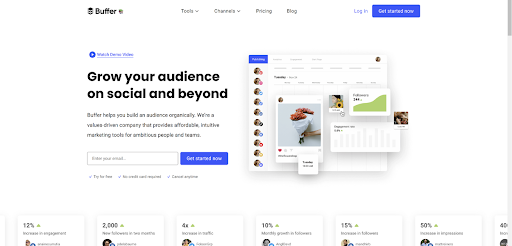 Buffer is an essential tool for any realtor serious about social media marketing. Starting at just $5 per month per channel, this platform simplifies the management of multiple social accounts, a task often daunting for busy real estate professionals. It empowers you to schedule posts, keep track of comments, and dive into analytics. 
If you're scouting for apps for realtors that can seamlessly integrate with your bustling schedule while keeping your marketing strategy intact, Buffer is a top candidate. Its ease of use and affordability make it one of the best apps for realtors aiming to conquer the social media landscape. This tool proves that maintaining a consistent online presence doesn't have to be cumbersome or time-consuming, reaffirming its spot among the top real estate apps of 2023.
Curb Hero 
Pricing: Free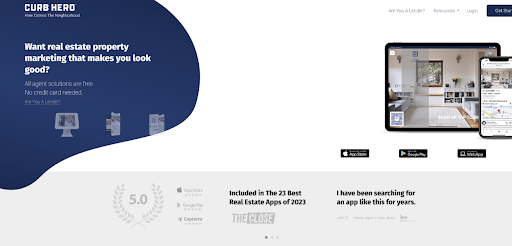 For real estate professionals who frequently host open houses, Curb Hero is a must-have tool that can radically transform your approach to managing these events. This groundbreaking, free-to-use app is equipped with a myriad of customizable features designed to make your life easier. 
For instance, its QR code sign-ins not only speed up the entry process but also offer a touch-free, modern experience for visitors. Coupled with its lead verification capabilities, this app ensures you can quickly and efficiently manage and follow up with potential buyers, improving your chances of closing deals.
When it comes to user experience, Curb Hero doesn't disappoint. Its intuitive, user-friendly interface is designed with busy realtors in mind, ensuring you can navigate the app's functions effortlessly. In a competitive market where every second counts, being able to operate your tools seamlessly is crucial, and Curb Hero delivers on this front.
What sets Curb Hero apart as one of the best apps for realtors is its zero-cost barrier. Its affordability makes it accessible to solo agents and teams alike, leveling the playing field and offering everyone the opportunity to manage open houses like a pro.
Final Thoughts
In our rapidly digitizing world, keeping up with technology isn't just a nice-to-have—it's a must for staying competitive. For real estate professionals, this translates into the need for efficient, robust, and user-friendly mobile apps that can streamline the various dimensions of their work. 
In this comprehensive guide, we've navigated the sea of apps available, breaking down what features to look for and which apps rank as top picks for 2023.
Whether it's Propertybase's all-in-one salesforce-based CRM, Calendly's focus on scheduling, Connecteam's multifaceted operational features, BombBomb's unique video messaging, Buffer's social media management, or Curb Hero's game-changing features for open house management, each app brings something unique to the table.